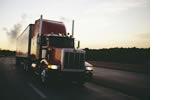 During demolitions and site clean-ups, Harbour Metals can provide full trucking services to remove debris and scrap metal from your yard or site. From local transport to national shipments, we can manage all your trucking needs, easily and cost-effectively.
No need to hire a subcontractor - Harbour Metals can handle all phases of your site clean-up from planning and execution to hauling, storage and recycling.
We have a number of trucking services available to suit small, medium and large size projects. Our trucking services include:
FLAT BEDS
END DUMPS
ROLL-OFFS
RAILCARS

TIPPER TRAILERS
COMMODITY
LOW BEDS
SPECIAL PERMIT LOADS
With our range of trailers, we can haul large pieces of equipment and oversize loads.
For current trucking rates, contact Harbour Metals at (807) 577-0873 or fill out our form on the Contact page.