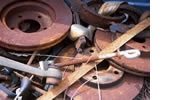 Harbour Metals works with individuals, government agencies and businesses in the removal of scrap metal.
We assist in developing, promoting and operating several scrap metal cleanups throughout Northwestern Ontario. From construction debris to white goods, we will haul away any ferrous or non-ferrous metals.
Our well-trained staff will come to your location, analyze your current scrap program and recommend a customized solution tailored to meet your needs. Our programs offer a convenient and efficient scrap removal system, while maximizing your scrap rebate.
For commercial and industrial customers, as well as the "do-it-yourselfer" we also provide containers for clean-ups. We have several sizes available and offer drop-off and pick-up services. Please contact us for details and pricing. 
Items for Pick Up
To follow is a partial listing of the items we will pick up for scrap metal recycling. Please note that this list is not complete. In general, we will haul any items with substantial metal content. If you have an item not listed below, please call us at (807) 577-0873 or send us an email.
Appliances:

Farm Equipment:

Small Equipment:

Automotive:

Ovens
Refrigerators
Freezers
Dishwashers
Washers
Dryers
Water Heaters
Furnaces
Small Appliances
Microwaves
Humidifiers / Dehumidifiers
Air Conditioners
Wood Stoves

Tractors
Bailers
Combines
Plows
Rakes
Hay Bines
Conditioners
Choppers
Harrows
Tanks
Milking Machines
Vacuum Pumps
Pipe Lines
Stanchions
Water Buckets
Feed Bins

Push Lawn Mowers
Riding Tractors
Snow Blowers
Snowmobiles
Scooters
Mini Bikes
ATV's
Golf Carts
Shredders
Chippers
String Trimmers
Chains Saws
Lawn Edgers

Cars
Trucks
Vans
Trailers
Body Parts
Engines & Parts
Transmissions
Wheels
Truck Caps
Radiators
Mufflers
Converters
Pipes
Miscellaneous


Household Items:

Other Items:

Food Cans
Furniture
Computers
Paint Tins, Rollers, Trays, etc.
Doors
Window Frames
Bicycles
Barbeques
Patio Furniture
Ladders
Ironing Boards
Aluminum Siding
Utensils and Cutlery
Pots and Pans
Chains and Cords
Grates
Air Vents

Coat Hangers
Shoe Racks
Candlestick Holders
Fire Irons and Guards
Watering Cans
Tools
Hinges and Fasteners
Knobs
Handles / Hooks
Screws / Bolts / Nails
Pipes
Taps
Metal Sheeting
Ducts

Radiator Switch Covers
Outlets
Wires / Cables
Thermostats
Jacks
Lighting Fixtures
Electronics
Sports Equipment
Fire Extinguishers
Keys / Key Chains
Trophies
Umbrellas
Mouse Traps
Bed Frames
Plumbing Parts
Bathtubs
Shelving Units

 

Campers
Trailers
Mobile Homes
RV's
Industrial Equipment
Miscellaneous Scrap Metal