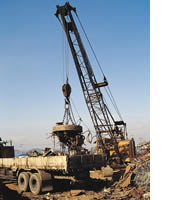 Demolitions
Harbour Metals' highly skilled demolition team provides professional and dependable demolition services throughout Northwestern Ontario. Our extensive knowledge, attention to safety, and commitment to excellence, has led to several contracts with national companies.
We employ high standards with every demolition. Our demolitions are well-planned, and safely executed, meeting your time and budget constraints.
Demolition Services
Harbour Metals can provide the following services:
TOTAL BUILDING DEMOLITIONS
BUILDING SECTION DEMOLITIONS
STRUCTURAL STEEL DEMOLITIONS
INTERIOR DEMOLITIONS
PLANT DEMOLITIONS

COMMERCIAL DEMOLITIONS
CONSTRUCTION DEMOLITIONS
SELECTIVE DISMANTLEMENT
EQUIPMENT DISMANTLEMENT
TRUCKING SERVICES
Demolition and dismantlement services are generally required if a site has become obsolete, poses liabilities, has severe construction deficiencies, or is undergoing urban development.
Let our experts at Harbour Metals conduct a full evaluation of your site to assist you in determining the best method to meet your goals, while initializing a plan to recover valuable scrap metal. Large or small, Harbour Metals can handle any size demolition project. Contact us for more information.
Asset Recovery
Harbour Metals takes a proactive approach when it comes to disposition of assets. We work with you through all phases of the project, ensuring safety and environmental standards are maintained.
Our comprehensive Asset Recovery services include a full evaluation, asset removal, asset storage, asset salvage, and asset remarketing.
If you would like an on-site survey of your site, Harbour Metals at (807) 577-0873 or fill out our form on the Contact page.