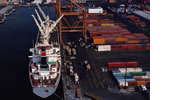 In addition to scrap metal recycling, demolition and site clean-up services, Harbour Metals can facilitate shipment of your goods to local and overseas locations. Our shipping methods include via water, rail and truck to your desired location.
Harbour Metals maintains environmentally safe recycling and shipping practices. We offer our clients exceptional services at affordable rates!
Containers
Harbour Metals provides roll-off or lugger container service, perfect for shipping scrap metal and equipment. Our containers come in a variety of sizes to accommodate any size load. Call us at (807) 577-0873 and speak with one of our professionals to discuss your container needs.
For current shipping rates, contact Harbour Metals at (807) 577-0873 or fill out our form on the Contact page.